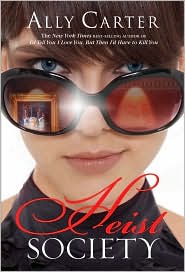 Yeah, I've been on a YA (young adult) kick lately - not really sure why. Maybe the snow has been making me feel a bit immature. Dunno.
I first picked up Ally Carter's Gallegher Girls series because I was an avid stalker of The Nelson Agency's blog and she's one of Ms. Nelson's clients. I read the first one,
I'd Tell You I Love You But Then I'd Have To Kill You
and thought it was wonderful. It features a group of girls who attend a private school for spies but inadvertently get into some really deadly situations that are way out of even their league. The humor and spy references were greatly entertaining, and the second two books in the series (
Cross My Heart and Hope To Spy
&
Don't Judge a Girl By Her Cover)
just kept the fun times rolling. A few weeks ago, I started looking to see when the next one was coming out (
Only the Good Spy Young
, June 15, 2010 in case you were curious, and MAN do I ever love her titles
)
.
When I saw
Heist Society
, I assumed it was the next GG book. Wrong.
HS
is about a girl who comes from a family of thieves and conmen. She tried to get out of the life by conning her way into an exclusive boarding school but gets pulled back into the game when her father gets framed for a crime he didn't commit and the only way she can keep him alive is by getting the paintings back for the crime lord type guy they'd been pinched from. It was such a good, entertaining read. Yes, it's for teen girls, but I was smiling while reading it, and it was just plain fun.
Go pick it up for some gal you know, but make sure to read it before you hand it off. :)