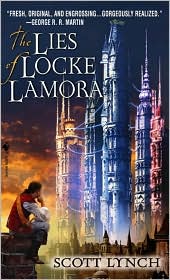 So, I noticed that the last several books I reviewed have been chick books. I've been on the lookout for something that would appeal to the guys, and settled on a book that an agent I've got my eye on for submitting my novel to has been raving over.
The Lies of Locke Lamora
by Scott Lynch has the kind of world-building that she's looking for in new projects.
Enter disappointment for me.
I will never be able to build this kind of world in my writing. I mean, the guy named the
winds
 on his world. Every aspect of these people's lives is detailed to the
n
th degree. The culture, the food, the clothing, the traditions, the holidays, the seasons, the transportation, the magic,
everything
 has been created from the ground up. It's absolutely awe-inspiring. It's also difficult to read. Think about it. That's a LOT of stuff to keep track of. So, although it's amazing what he's done here, and part of me regrets that I can never do the same (frankly, I don't even want to try - I'd rather get my characters fleshed out to that degree instead of the world they're in), I'm content to concentrate on what I can accomplish in my own writing. The literary world needs the kind of thing I can write too. If all books were like this, we'd lose a lot of readers. But to have a book like this available is a prize in itself. It's an experience and it will feed the souls of many readers who usually search vainly for just this type of book.
It's made such an impression on me that I wanted to let you guys know what I was currently caught up in. It might be quite a while before I get through it and can post an actual review. I'm getting ready to start Chapter 4. I know what you're thinking. Amelie, you're hardly into it! I'll have you know that ch 4 starts on page 203. That's right. 203. Two hundred pages to cover the prologue and three chapters. Yikes. To make it even more confusing, he's constantly jumping back in time. For those of you who hate flashbacks, this book will make you start looking for a knife to slit your wrists. The prologue was broken up into numbered sections and went like this (Locke was not in many of these scenes, but I kept track of them according to his age, or at least what I think his age was):
Locke age 7
Locke age 5
Locke age 7
Locke age 5
Locke age 7

Locke age 6

Locke age 7

Locke age 7

Chapter 1 starts out with Locke at age 24ish and flip-flops with Locke age 7ish. Can you see how confusing this is? You need to pay attention and concentrate while reading this book. It's not the one you toss in the car to read in the school pick-up line while you're waiting.
Anyhoo, that's what I'm currently reading. Wish me luck.